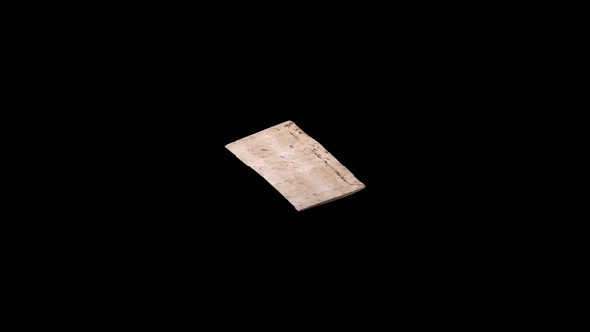 In 1697, a lawyer in Lille, France, wrote to his cousin in the Netherlands, requesting a death certificate for a relative, presumably to finalize an inheritance. He folded and sealed his mundane massive to be mailed to the Hague without an envelope. It never made it to its intended recipient for whatever reason and is still closed today. Nonetheless, due to high-resolution imagery and a "virtual unfolding" algorithm, a group of historians and scientists could read it.
From exposing text on objects that are too fragile to handle to reverse engineering ancient origami techniques, it could use the scanning-and-unfolding method in several ways. However, the authors of the latest review published in Nature Communications are most eager to use it to investigate the art of "letterlocking." This method of intricately folding, tucking, cutting, and sealing letters makes them behave as it commonly used in their tamper-proof containers until mass-produced envelopes. Jana Dambrogio, a scholar and conservator at the Massachusetts Institute of Technology Libraries and a co-author of the new paper, became interested in it about two decades ago.
Dambrogio had found minuscule, seemingly deliberate cuts and creases in several historical records and had figured out what they were. She explains, "It seemed like locks, and defence was a natural leap—that it was designed in on purpose." "Oh my gosh, we need to let people know not to delete this proof because the little tiny slits, cracks, and folds are the evidence of this understudied protection tradition," says the author. She has been working on this project with Daniel Starza Smith, a lecturer in early modern English literature at King's College London and a co-author of the article, for the past seven years. The two researchers and their team have catalogued more than 60 letter locking techniques. "There were no such items as modern gummed envelopes until 1850," Smith claims. Paper was too valuable to be squandered on a different packet. "So you had to use letterlocking to deliver a mail—the letter had to become its own envelope or mailing device."
Any letter locks are used to keep pages together. Others are made to tear when opened, exposing all attempts to peer at the contents of a letter. Many historical figures, including England's Queen Elizabeth I and her spymaster Francis Walsingham, Italian diplomat and author Niccole Machiavelli, and English poet John Donne—as well as less-famous correspondents like the average Joe (or rather average Jacques) in Lille whose message was the focal point—left telltale signs of letter locking in the creases and tears of archived content. To prevent erasing the primary symbols, they would use to recreate the Renaissance-era letter's folding style. The team decided to keep it locked. A tuck, for example, is like a sneeze, according to Dambrogio (a subtle distortion of paper often used in letter locking). "It's ephemeral," says the speaker.
She and Smith collaborated with M.I.T. computer scientists to screen letters without having to open them. According to Amanda Ghassaei, an independent researcher and study co-author, the first step is to establish a very high-resolution scan of these letters. The team used x-ray microtomography, which Ghassaei compares to a medical C.T. scan but is even more accurate, with the aid of an imaging lab at the Queen Mary University of London.
She exclaims, "The scans are amazing." "The individual layers of paper can be seen." She and Holly Jackson, an M.I.T. undergraduate student and co-author of the study, wrote code for an algorithm to "break" the letter packet while keeping it locked after the photos exposed the internal folds. "We created this method for practically unfolding the data," Ghassaei explains, "so we're working out how to go from this folded geometry to a flat state."
The algorithm will then recreate the letter's text by mapping the ink on the document to the essentially "unfolded" form. It dealt with very mundane family affairs in the Lille situation. However, the algorithm also revealed how it folded the letter 300 years ago. "We produce an illustration that indicates what the crease pattern will look like in addition to an image of the text," Ghassaei explains. "You can see which [creases] are sharper and which are gentler; you can see which [creases] are sharper and which are gentler. As a result, we get a very good geometric overview of how this folded package looks." "How people fold things—or how they close a letter before it arrives and is able to be opened," says Paula Findlen, a Stanford University history professor. She was not interested in the new research. "Perhaps they can, because this… will definitely get people thinking about all these various folding techniques," says the author.
The research, according to Findlen, may have ramifications beyond letter locking. It could, for example, hone techniques that aid historians in studying highly fragile records, such as those that have been rolled up and glued together due to water damage. She contrasts the current research to attempts to see original, worn-away text on discarded papers known as palimpsests or an early version of an artwork covered under layers of oils using x-rays. By mixing conventional scholarly expertise with modern technologies and new methods of peering under the hood, those approaches include "a very interesting, multilayered past of the artefact," according to Findlen.
According to Erik Demaine, an M.I.T. computer scientist and a co-author of the research. It may also use the processes created by Ghassaei and Jackson to learn and conserve secrets from the famously complex art of origami. "it never diagramed several older origami models," says the author. "How they were made was never documented," he claims. "There's always the possibility that they'll be damaged—you might sit on them, and [the wisdom that created them] could be lost. I believe, maybe a way to preserve those works while also reconstructing how they were created, allowing us to gain a deeper understanding of how the early origami masters worked." He claims that, in addition to retaining ancient methods, the unfolding algorithm will make it easier for contemporary researchers to log each step in developing a new design. "We also fold items to verify if it is possible to contort paper in a specific way," Demaine says. Instead of tearing it out and trying to recall how we put it together in the first place, we should study it in its folded state."
Most of the algorithm's importance to Dambrogio and Smith comes from its ability to extend their historical analysis of letter locks and how the artefacts changed over time. The letter from Lille, for example, is part of the Brienne Collection, a trunk holding 2,600 undeliverable letters gathered by 17th-century postal workers and subsequently donated to a Dutch museum. "One of the curious aspects about the Brienne trunk is that there have been distinct changes in design, distinct changes in technology, and letters tend to look much more like the current envelope. they have a kind of closing flap, like you'd imagine if you purchased any envelopes at the shop," Smith says. "A true storey of how information infrastructure evolves over 100, 200 years is emerging."
Findlen describes the trunk as "a random snapshot of civilization frozen in time." "We have a whole box full of what a letter feels like when it's sealed but not opened. This will encourage us to open it up even more."